Yuma Conservation Garden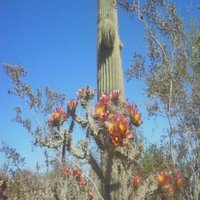 Experience The Natural Desert Flora & Fauna
The Yuma Conservation Garden is found at the northeast corner of Pacific Avenue and highway 80. The 28-acre site includes an installation featuring Sonoran Desert vegetation, a watershed model, a pond for wild and domestic waterfowl, and a display of antique farm equipment.

One should be careful in this place not to disturb the garden as it is the habitat of many plants and animals. Visitors under the age of 18 are not going to be admitted without adult oversight. Visitors are advised to keep in mind that this is a special place for plants and animals, and is completely different from a park or playground. This AZ garden and arboretum is open each Saturday and Sunday from Sept through May or you could request a special tour from the site steward.