Pump It Up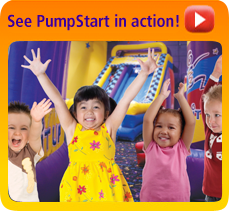 All Set To Pump It Up with Kids
Private indoor arenas, gigantic inflatable slides, bounce houses, obstacle courses, this is how the Pump it Up amusement park is categorized in AZ. One can celebrate the private party at the amusement park. Enjoy your fun filled party with friends and kids with pizza, drinks, balloons and goodie bags making the party stress-free. Children's birthday offers can make you sit back and enjoy your child's birthday.

This indoor inflatable playground, a national chain based in Tempe, is bound to leave even Energizer Bunny-type kids worn out. Birthday-party packages are available. Select locations offer structured preschool playtime sessions in addition to open bounce, corporate team building and art classes.