Jump Street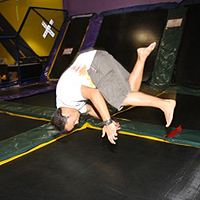 Have Unlimited Fun At Jump Street
Jump Street is the ideal place amusement for kids of different age groups. It is famous for its trampoline parks. Jump Street provides a great avenue for corporate events and fun activity center for kids. Boasting over 20,000 square feet of wall to wall trampolines, trampoline dodge ball and other unique and fun activities. It serves as a perfect place to "Come Bounce Off Our Walls"!

Jump Street opened in 2007 in CO, since then it has already expanded to locations in three states. It is governed by the common motto to provide families, schools, groups and corporations a safe, fun environment to come and play. Kids have a lifetime experience at this AZ amusement park.