Jambo Indoor Amusement Park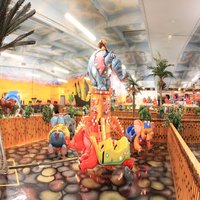 All The Fun One Can Think Of
Jambo! Park in Mesa, AZ is an indoor amusement park with 7 amusement park rides named as a mini roller coaster, carousel, bumper cars, monkey barrels, spinning cups, safari train, jet airplane ride, a huge playground soft play area with tunnels & slides for hours of fun and many kid-appropriate video games.

If you are a foodie, you will enjoy the great selection of food and treats including pizza, hot dog, nachos, burger, ice cream, cotton candy, funnel cake etc etc. This is the old Jungle Jim Playland and Jeepers but with all the new improvements and renovations.