Boyce Thompson Arboretum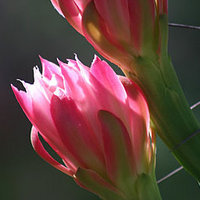 Enjoy the Desert Bloom in Arizona
Founded in the Twenties by mining tycoon Boyce Thompson to provide folks an appreciation of plants, the botanical garden and arboretum in AZ displays native Sonoran Desert vegetation alongside plants from several other varied deserts and dry lands. Special areas include the cactus Garden, the Taylor Family Legume Garden, the Wing Memorial (herb) Garden, the (drought tolerant plant) Demonstration Garden, and also the High trail. Gold poppies, Penstemons and primrose beautify the cactus Garden and along the paths.

Admission of $9 includes daily 11:00 A.M. guided tours and weekend nature walks; and these events are at no extra charge to the annual members, also at no charge to guests with an Arizona State Parks annual pass. Wildflower Photography classes are scheduled in March. There are many other events held through the year. The gift shop has a great collection of desert-adapted plants in stock. There isn't any restaurant at the facility however sandwiches, drinks and snacks are offered in the novelty shop. Picnic tables and charcoal grills are on the market for guests to use; propane and charcoal are allowed, but not wood fires.