Phoenix Zoo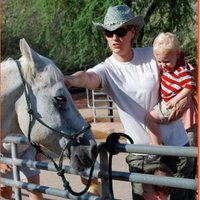 Visit This Zoo-One of the Top 5 In The US
The Phoenix Zoo can be safely declared as Robert E. Maytag's dream come true. He had not only worked relentlessly to establish this zoo but also mobilized the community for support and sustenance. Operating then – as currently – without government funding, the fledgling zoo struggled throughout its initial decade. Stability came with time and it has later on flourished, emphasizing quality of every exhibit and public programs. The Phoenix, AZ zoo is home to over 1,300 animals including 200 endangered species and participates in thirty seven Species Survival Plans (SSPs) to breed and maintain endangered species populations in captivity.

The Zoo has different timings during different months, so check the schedule on the website before you plan a visit. The Admission rates vary from $ 20-$10 while it is free for kids under 3 and the members.